Grow your business without losing your shirt (literally)
If you're a business owner or marketer, you have many options available to advertise your business. Traditional media like newspapers, radio, and TV are becoming more ineffective by the day.

Digital media like email marketing, mobile messaging, and pay-per-click are effective but require a high level of expertise to use them successfully. Regardless of which media you choose, research has found that consumers have grown numb to most marketing, which results in a lot of wasted advertising money.

If you reach into your pocket, would you find a billboard or a website? No, of course not. But you might find a pen, key chain, or some other item imprinted with a marketing message. People love receiving promotional products and use them every day. The message they carry is seen over and over again without interruption and without any additional cost to the marketer, making them the easiest and most economical way to advertise any business.

For nearly thirty years, I have helped thousands of business owners and marketers get better results from their marketing by using promotional products to grow their businesses, and I can help you too. My book teaches you how to use promotional products to generate more leads, get more referrals, increase customer retention, and increase sales.
Bonus!
When you purchase the softcover book, you will receive a $20 Manko Company gift card that can be used on any order over $100 placed on our website www.mankocompany.com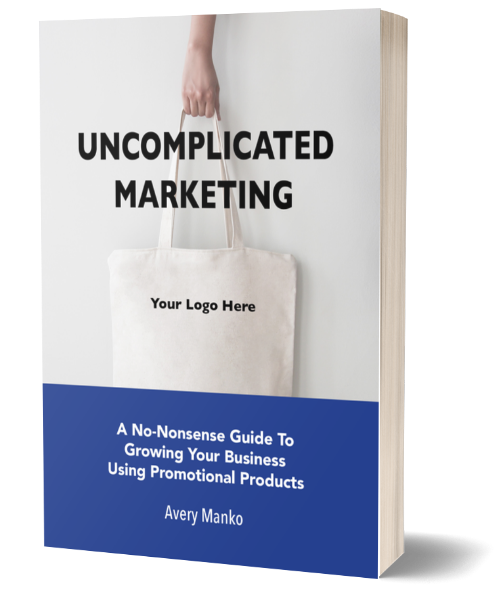 "No matter what industry you're in, this engaging book has valuable marketing insights, concepts and ideas that can be easily implemented. A must read for every business owner or marketer."

Laura DiFilippo
President
DiFilippo's Service Company, Paoli, PA
By reading my book, you'll learn:
Why you should use promotional products to market your business.
How to choose items that are best suited for your business.
How to buy them efficiently.
How to craft the marketing message.
How to ensure the items are printed correctly and delivered on time.
How to distribute the items to your customers and prospects.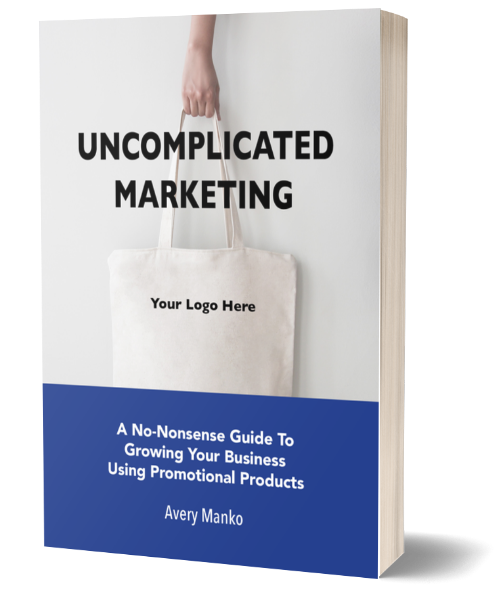 "Uncomplicated Marketing is packed full of helpful advice that's certain to be a benefit to anyone who is interested in marketing their business!"

Kelly VanVleet
Marketing Director,
VanVleet Insurance, Richmond, IN
I also included 43 examples of how other marketers used promotional products to market their businesses.

Whether you're a seasoned business pro or are just getting started, this book provides you a blueprint for successful marketing using promotional products.

Learn more about the book in this short video from Avery Manko:
Order yours today!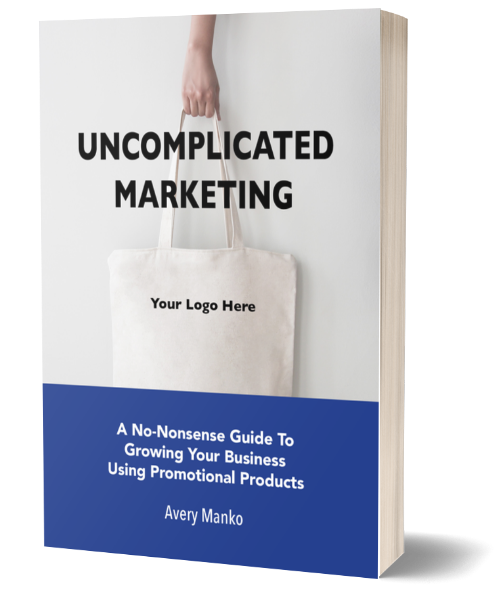 "Avery Manko lays out a master business marketing plan that is efficient, cost effective and, most importantly, makes growing your business fun."

–Dr. Steven R. Karp
Chiropractic Physician, Stateline Chiropractic
Glen Mills, PA
easy, cost effective, uncomplicated marketing
Privacy Policy
This privacy policy sets out how The Manko Company, Inc. uses and protects any information that you give us when you use our website. The Manko Company, inc. is committed to ensuring that your privacy is protected. Should we ask you to provide certain information by which you can be identified when using this website, then you can be assured that it will only be used in accordance with this privacy statement. The Manko Company, Inc. may change this policy from time to time by updating this page. You should check this page from time to time to ensure that you are happy with any changes. This policy is effective from 9/19/2010.
We will not sell, distribute or rent your personal information to third parties unless we have your permission or are required by law to do so. If you believe that any information we are holding on you is incorrect or incomplete, please write to or email us as soon as possible at the above address. We will promptly correct any information found to be incorrect.
What we collect
We may collect the following information:
name and job title
contact information including email address
demographic information
other information relevant to placing your order
What we do with the information we gather
We require this information to understand your needs, provide you with a better service and process your order. We use your information for the following reasons:
Internal record keeping.
The purpose of completing your order. The information you provide will only be shared with other parties involved in the completion of your order (example; UPS, the manufacturer, credit card authorization companies).
We may use the information to improve our products and services.
We may periodically send promotional emails about new products, special offers or other information which we think you may find interesting using the email address which you have provided.
From time to time, we may also use your information to contact you for market research purposes. We may contact you by email, phone, fax or mail. We may use the information to customize the website according to your interests.
Security
We are committed to ensuring that your information is secure. In order to prevent unauthorized access or disclosure, we have put in place suitable physical, electronic and managerial procedures to safeguard and secure the information we collect online.
How we use cookies
A cookie is a small file which asks permission to be placed on your computer's hard drive. Once you agree, the file is added and the cookie helps analyze web traffic or lets you know when you visit a particular site. Cookies allow web applications to respond to you as an individual. The web application can tailor its operations to your needs, likes and dislikes by gathering and remembering information about your preferences. We use traffic log cookies to identify which pages are being used. This helps us analyze data about webpage traffic and improve our website in order to tailor it to customer needs. We only use this information for statistical analysis purposes and then the data is removed from the system.
Overall, cookies help us provide you with a better website by enabling us to monitor which pages you find useful and which you do not. A cookie in no way gives us access to your computer or any information about you, other than the data you choose to share with us. You can choose to accept or decline cookies. Most web browsers automatically accept cookies, but you can usually modify your browser setting to decline cookies if you prefer. This may prevent you from taking full advantage of the website.
Links to other websites
Our website may contain links to other websites of interest. However, once you have used these links to leave our site, you should note that we do not have any control over that other website. Therefore, we cannot be responsible for the protection and privacy of any information which you provide whilst visiting such sites and such sites are not governed by this privacy statement. You should exercise caution and look at the privacy statement applicable to the website in question.