Grow your business without losing your shirt (literally)
If you're a business owner or marketer, you have many options available to advertise your business. Traditional media like newspapers, radio, and TV are becoming more ineffective by the day.

Digital media like email marketing, mobile messaging, and pay-per-click are effective but require a high level of expertise to use them successfully. Regardless of which media you choose, research has found that consumers have grown numb to most marketing, which results in a lot of wasted advertising money.

If you reach into your pocket, would you find a billboard or a website? No, of course not. But you might find a pen, key chain, or some other item imprinted with a marketing message. People love receiving promotional products and use them every day. The message they carry is seen over and over again without interruption and without any additional cost to the marketer, making them the easiest and most economical way to advertise any business.

For nearly thirty years, I have helped thousands of business owners and marketers get better results from their marketing by using promotional products to grow their businesses, and I can help you too. My book teaches you how to use promotional products to generate more leads, get more referrals, increase customer retention, and increase sales.
Bonus!
When you purchase the softcover book, you will receive a $20 Manko Company gift card that can be used on any order over $100 placed on our website www.mankocompany.com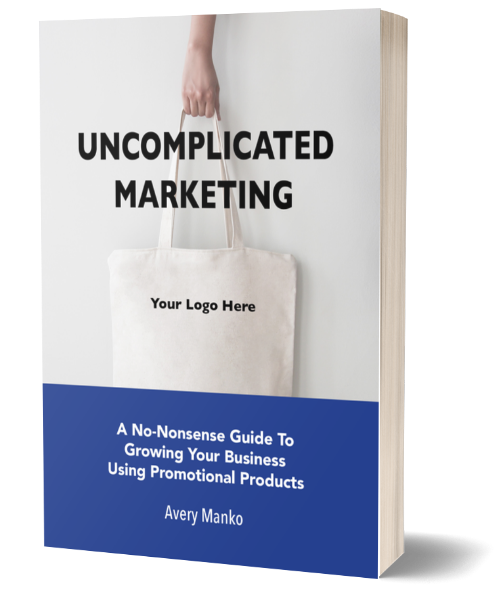 "No matter what industry you're in, this engaging book has valuable marketing insights, concepts and ideas that can be easily implemented. A must read for every business owner or marketer."

Laura DiFilippo
President
DiFilippo's Service Company, Paoli, PA
By reading my book, you'll learn:
Why you should use promotional products to market your business.
How to choose items that are best suited for your business.
How to buy them efficiently.
How to craft the marketing message.
How to ensure the items are printed correctly and delivered on time.
How to distribute the items to your customers and prospects.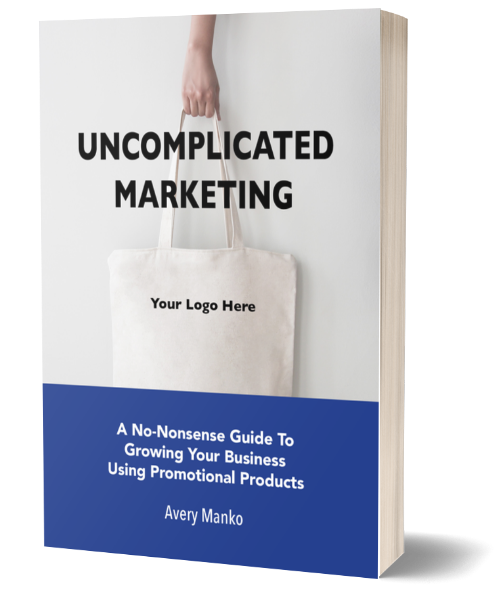 "Uncomplicated Marketing is packed full of helpful advice that's certain to be a benefit to anyone who is interested in marketing their business!"

Kelly VanVleet
Marketing Director,
VanVleet Insurance, Richmond, IN
I also included 43 examples of how other marketers used promotional products to market their businesses.

Whether you're a seasoned business pro or are just getting started, this book provides you a blueprint for successful marketing using promotional products.

Learn more about the book in this short video from Avery Manko:
Order yours today!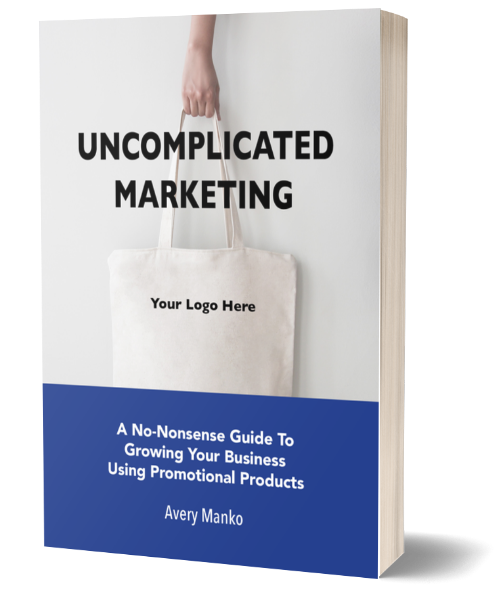 "Avery Manko lays out a master business marketing plan that is efficient, cost effective and, most importantly, makes growing your business fun."

–Dr. Steven R. Karp
Chiropractic Physician, Stateline Chiropractic
Glen Mills, PA
easy, cost effective, uncomplicated marketing