Grow your business without losing your shirt (literally)
If you're a business owner or marketer, you have many options available to advertise your business. Traditional media like newspapers, radio, and TV are becoming more ineffective by the day.

Digital media like email marketing, mobile messaging, and pay-per-click are effective but require a high level of expertise to use them successfully. Regardless of which media you choose, research has found that consumers have grown numb to most marketing, which results in a lot of wasted advertising money.

If you reach into your pocket, would you find a billboard or a website? No, of course not. But you might find a pen, key chain, or some other item imprinted with a marketing message. People love receiving promotional products and use them every day. The message they carry is seen over and over again without interruption and without any additional cost to the marketer, making them the easiest and most economical way to advertise any business.

For nearly thirty years, I have helped thousands of business owners and marketers get better results from their marketing by using promotional products to grow their businesses, and I can help you too. My book teaches you how to use promotional products to generate more leads, get more referrals, increase customer retention, and increase sales.
Bonus!
When you purchase the softcover book, you will receive a $20 Manko Company gift card that can be used on any order over $100 placed on our website www.mankocompany.com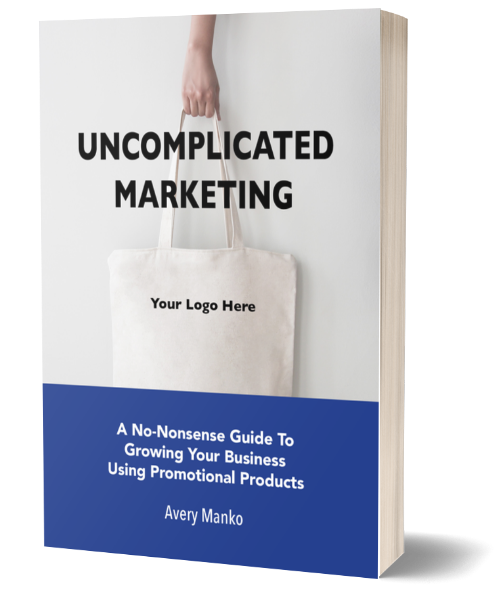 "No matter what industry you're in, this engaging book has valuable marketing insights, concepts and ideas that can be easily implemented. A must read for every business owner or marketer."

Laura DiFilippo
President
DiFilippo's Service Company, Paoli, PA
By reading my book, you'll learn:
Why you should use promotional products to market your business.
How to choose items that are best suited for your business.
How to buy them efficiently.
How to craft the marketing message.
How to ensure the items are printed correctly and delivered on time.
How to distribute the items to your customers and prospects.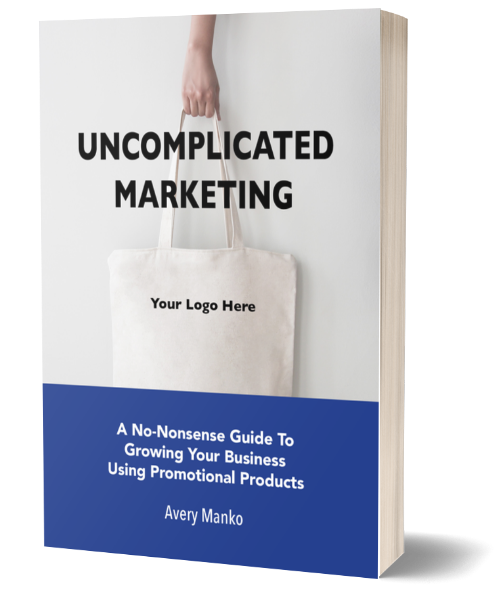 "Uncomplicated Marketing is packed full of helpful advice that's certain to be a benefit to anyone who is interested in marketing their business!"

Kelly VanVleet
Marketing Director,
VanVleet Insurance, Richmond, IN
I also included 43 examples of how other marketers used promotional products to market their businesses.

Whether you're a seasoned business pro or are just getting started, this book provides you a blueprint for successful marketing using promotional products.

Learn more about the book in this short video from Avery Manko:
Order yours today!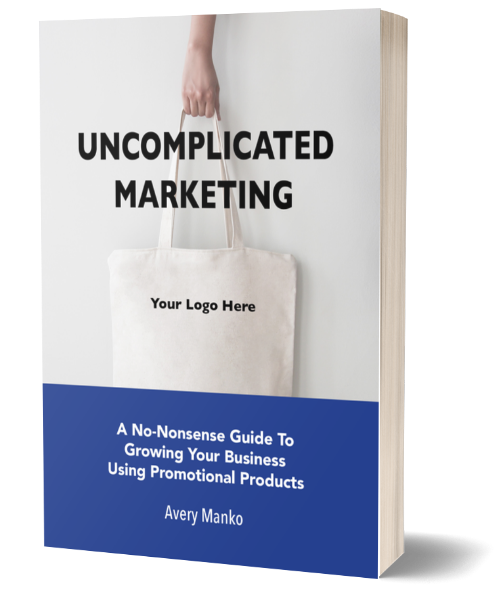 "Avery Manko lays out a master business marketing plan that is efficient, cost effective and, most importantly, makes growing your business fun."

–Dr. Steven R. Karp
Chiropractic Physician, Stateline Chiropractic
Glen Mills, PA
easy, cost effective, uncomplicated marketing
Excellent Experience
The Manko Company was founded in 2000 and is still going strong. From day one, we've helped business owners, entrepreneurs and marketers use promotional products to boost sales, retain customers, increase purchase frequency and get more referrals. We've helped thousands of clients in nearly every industry, with a primary focus on insurance. Most promotional product companies don't make it past five years, but we've been at it for more than twenty. Throughout that time, The Manko Company has nurtured a network of thousands of satisfied customers throughout the country - from Maine to Miami to Honolulu and all points in between.
Total Commitment
Placing an order means you're entrusting your brand and your money with The Manko Company. We take this commitment seriously. Every order is reviewed, processed and monitored by the owners, Avery Manko and Diana Santillo, from initial contact to final delivery. Our goal is delivering great work on time. When you open that box, you'll love what you see.
Superior Service
There are thousands of promotional products companies. We all sell the same things from the same suppliers. To the inexperienced buyer, we all look the same - but we're not. The difference is in quality of service. At The Manko Company, we take pride in first rate service. The emailed compliments we receive from happy customers mean the world to us. After experiencing how easy it is to work with us, and how little "babysitting" we need, customers are surprised to learn that The Manko Company is just a two person operation. Those two people deliver such consistently superior service due to decades of shared experience.
Team Manko
The Manko Company is owned by the husband and wife team of Avery Manko and Diana Santillo. Avery got his start in the industry in 1990. He owned and operated a screen printing business, then transitioned to promotional products in the mid 90's. Most promotional product distributors have never really gotten their hands dirty making the products that they sell. Not Avery. This Penn State graduate started his professional journey putting screens on presses and printing promotional shirts. Avery's practical experience helps him create effective designs that will print accurately. If you have product questions or questions about placing an order, Avery is your contact.
Diana left corporate America in 2010 and came to work at The Manko Company. She is a former corporate tax attorney and accountant. She worked for a large, well-known company that owns brands which probably fill your refrigerator. Beyond her duties as accounting specialist, Diana tracks and manages orders once they are in production, ship out and delivered to you. Adept at handling all the spinning plates, balancing books and everything in between, Diana will be happy to answer any questions about orders in process, deliveries or invoices.